"I really enjoy you mixed the fan moves with belly dance, and love love love following those flow time by the end of the class too. Thank you for virtually guiding me into silk fans world! " – Andrea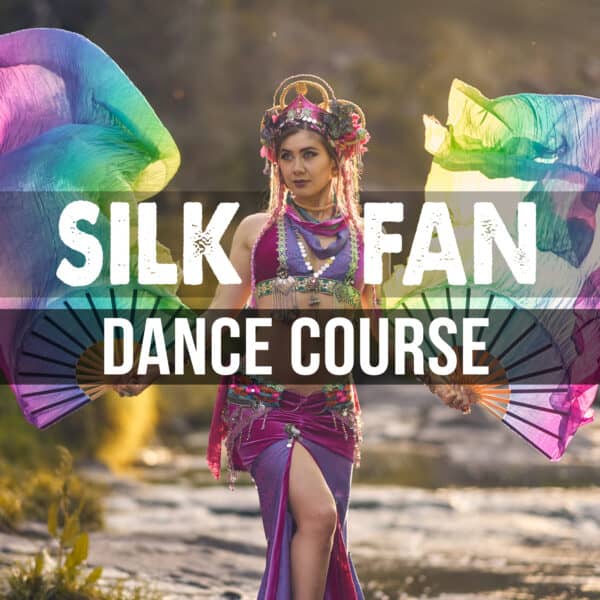 It was an amazing course! I learned so much! I was familiar with the follow along method from the Serpent Dance choreography, so that was no surprise, but I really liked it! – Isabelle
Jessy's unique format will teach you how to sequence movements and feel like you're actually dancing with your fans! Follow along with Jessy as she breaks down and drills patterns with you, before dancing together using the skills learnt in a flow to music.
 
You will learn a range of veil fan techniques, footwork patterns and belly dance movements, with detailed breakdowns on how to combine all of these elements for your silk fan dance practice. You will also access theory breakdowns both specific to veil fans and applicable to prop manipulation more broadly.

The course also includes a warm up and cool down. Jessy recommends doing a warm up before your movement practice, and finishing your practice with a cool down.

Suitable for complete beginners or the more experienced fan spinner looking to incorporate more body movement and musicality into their flow, or consolidate their knowledge of theory.

Learn at your own pace – classes can be taken multiple times, so you can repeat all or parts of a class as many times as required.
Course curriculum
1. Warm Up (7:17)
2. Cool Down (8:39)
3. How to hold + Flutters (21:12)
4. Vertical Extension (tog, split) (47:06)
5. Vertical Extension Turn (37:45)
6. Geometric Theory for Silk Fans (2:26)
7. Dance posture (5:31)
8. Hip figure 8s (22:04)
9. Shape making + Folding (48:26)
10. Layering Hip work to shape making (30:03)
11. Side undulations (24:52)
12. Layering side undulations with silk fan work (43:27)
13. Turns (38:31)
14. Wraps (23:59)
15. Archway extension (47:20)
16. Poi Grip (8:53)
17. Two beat weave (53:12)
18. Congratulations