This guide is a general introduction to fire safety procedures that minimise risk when spinning fire. However, fire spinning is an inherently dangerous activity, and there will always be some risk no matter what safety precautions are taken! This guide includes information on:
What to wear and what materials are fire safe
Different fuels and what fuel you can use to spin fire
Fire safety equipment and fire safety protocols
What your fuel set up should look like
How to light up safely
(Very) general first aid
FireLily Dance highly recommends having an experienced spinner with you if you are lighting up for the first time!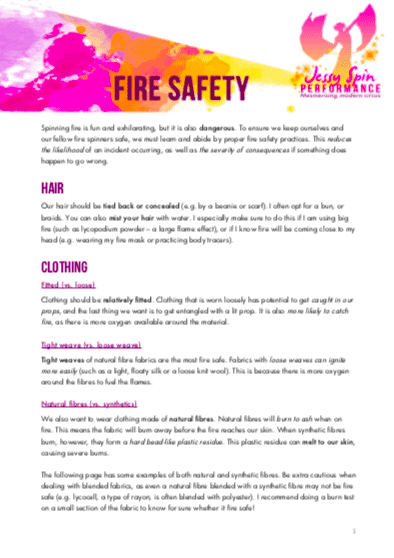 FAN PRODUCT RECOMMENDATIONS - PLUS DISCOUNTS!
Check out Jessy's fan product recommendations, which she put together after being asked what her faves are one… or two… or three… okay, MANY times – now all of her tried and tested preferences can be found in one place!
Plus, Jessy has teamed up with her favourite companies so you can SAVE! Use the discount code 'JESSYSPIN' for props from: