Learn how to DANCE with fire fans in this 16-episode course – fan spinning techniques, belly dance and more!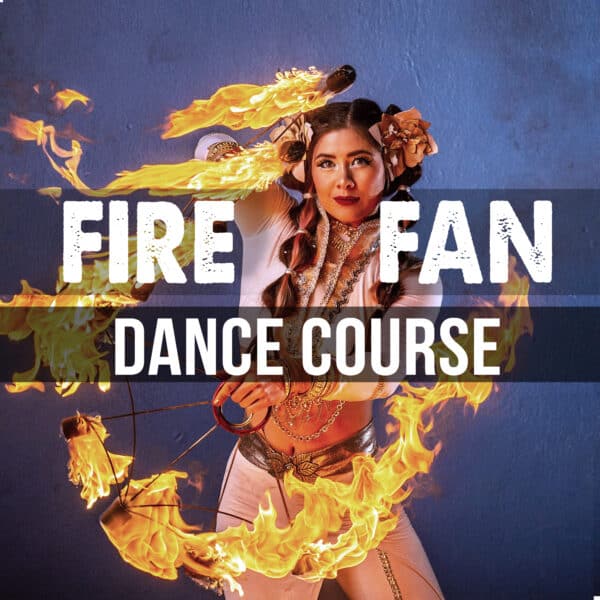 Jessy's unique format will teach you how to sequence movements and feel like you're actually dancing with your fans! Follow along with Jessy as she breaks down and drills patterns with you, before dancing together using the skills learnt in a flow to music. 
 
You will learn a range of fan spinning techniques from beginner to advanced, and access full theory breakdowns of prop manipulation concepts. You will also learn footwork patterns, beginner belly dance movements, and how to layer these with fan work. 
 
The course also includes a warm up, cool down, Jessy's personal tips for spinning fire, some fire safety notes, and even a handful of Jessy's bloopers (face palm…). 
 
Suitable for complete beginners or the more experienced fan spinner looking to incorporate more body movement and musicality into their flow, or consolidate their knowledge of theory. 
 
Learn at your own pace – classes can be taken multiple times, so you can repeat all or parts of a class as many times as required!
Course curriculum
1. Warm Up 07:16
2. Dance Posture 05:31
3. Technical Fan Theory, Folds & Slides 21:42
4. Corkscrew & External Hip Circle 16:22
5. Nine Square Theory & Fan Circles 21:42
6. Folding Patterns 32:12
7. Hip work & Fans 28:07
8. Timing & Direction 07:01
9. Inspin Patterns 22:28
10. Spinning Terminology 00:02:17
11. Antispin Patterns 00:58:34
12. Chest Isolations, Side Undulations & Fan Work 00:31:29
13. Body Tracing 01:13:59
14. Cool Down 00:08:38
15. Fire Spinning Tips & Notes on Fire Safety 00:05:14
16. Jessy's Bloopers