TODAY IS THE DAY! The FireLily Fan Dance Challenge for 2021 is hereeee! 🎉🔥 The challenge will run for 3 weeks from today (28th September, Australian Eastern Standard Time). Aaand I'm super excited to share the epic prizes we have in store for this year!!!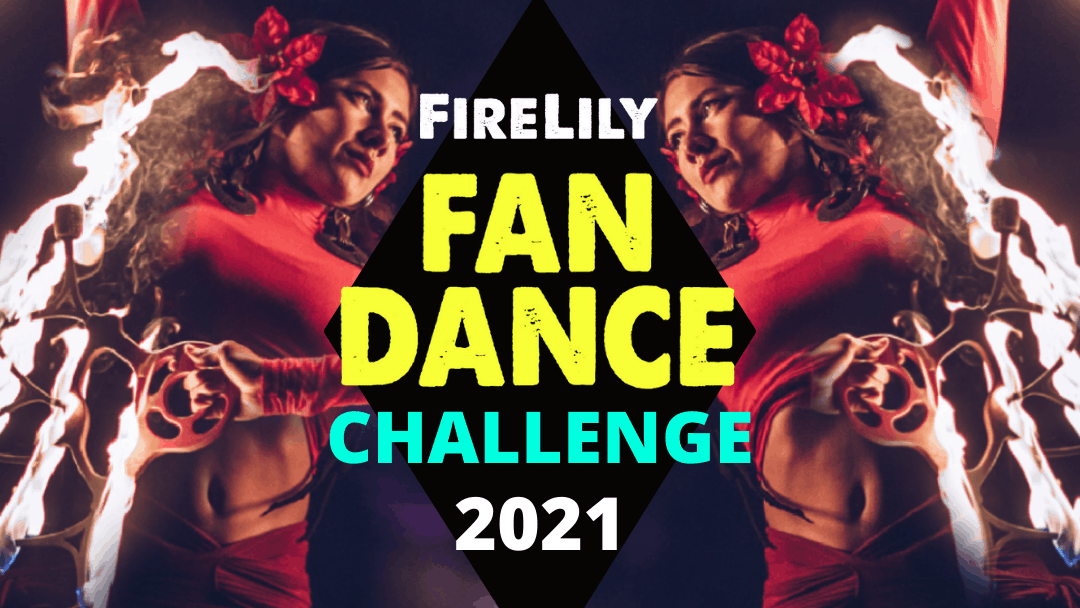 YOU CAN WIN:
- LED fans by NeoFlowArt
- Fire fans by Flow DNA
- Practice fans by Flow DNA
- Practice fans by NeoFlowArt
- Skyrider gloves by Anahata Designs
- Cuffs by FairyFloss Tribe
- Course of your choice from the FireLily Dance studio!
Woah, HECK. YES. All participants go into the draw to win a prize. Plus, you get to learn a badass choreo for free AND be part of the group compilation video if you wish! Eeee!
Please READ CAREFULLY the following steps to enter:
Learn the Fan Dance Challenge 2021 choreography, free in the FireLily Dance studio.
Film yourself doing the choreography in a 1 minute video. Feel free to dress up and have fun with it! You can do fun video edits, but it needs to be clear that you know the whole choreography and are not using editing to avoid this (bonus points if you have a single take as well as your edited vid!). It can be fire, LED, practice fans or silk fans! If you don't have fans, there is a free DIY tutorial in the FireLily Dance studio.

Share this video on Instagram as a 'post' or 'reel'. In your post, make sure you:


- TAG @firelilydance under 'tag people' <<< IMPORTANT: This will help me to find your video!!!
- HASHTAG: #firelilydancechallenge21 #firelilyfamily #firefans #techfans
- MENTION all sponsors in the description, and write what prize you are most excited about.
-

Check for typos

!

Follow the Instagram accounts of all challenge sponsors.




@jessy.spin




@firelilydance




@neoflowart




@flowdna_arts




@anahatadesigns




@fairyfloss_tribe

Winners will be drawn at random from all participants, and announced via email as well as LIVE via Instagram October 21st 08:00AM Australian Eastern Standard Time.

If you wish to be a part of the group compilation video, please send your video to

info@firelilydance.com

and MAKE SURE:


-The email subject is "FL Dance Challenge 2021"




-The file name is saved as '[Name] [Country]' e.g. 'Jessy Australia'.


If the file is too big for email, you can use '

wetransfer.com

' or google drive. You can send your video after the challenge ends, but it MUST be in by October 31st AEST.

Click below to check out the group video from last year!
Be sure to tag me in your progress posts and stories - I love to save and share them, so all of #FireLilyFamily can see and enjoy! This challenge is also about care and community, and oh boy - it's been a wild couple of years for the world, I think we all could enjoy some movement and release!

The choreography class will remain in the FireLily Dance studio even after the challenge, so don't worry if you don't learn it within the challenge dates! It will still be there :)

My gift to FireLily Family - a thank you for growing with me over the years ❤️
YOU GOT THIS!!!!

Jessy xxx
FOLLOW US ON OUR SOCIAL CHANNELS
You can find FireLily Dance family by using #firelilyfamily or tag us @firelilydance - we love to see your pics + vids and to feature you on our pages!